BET mailing list
Submit your email

BET on Twitter
Loading feed...
Charity number: 1077161
Company number: 3724349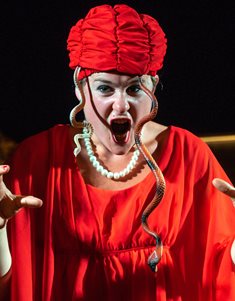 Two clowns. Some legendary women. Lots of snakes. A guaranteed tragedy.
Join Nina Divina - actor extraordinaire - and her faithful assistant Lucia Bombilla as they attempt to stage the most tragic scenes of legendary women...and snakes.
Expect fierce flamenco dancing, seductive apple munching and that classic hit song we all know and love: "I'm not a woman, I'm a snake!". An anarchic, silly, fun-filled hour of clowning and cabaret that celebrates all things woman (and some things snake).
Mighty Boosh with Smack the Pony's sly feminism all wrapped up in one glamorous clown cabaret.
Presented as part of the Wild Shenanigans Comedy Festival.