BET mailing list
Submit your email

BET on Twitter
Loading feed...
Charity number: 1077161
Company number: 3724349
What's on
The Blue Elephant should be on every theatre goer's map
A New Workshop!
Our Participation Director Jo Sadler-Lovett delivers a workshop for children imagining what might happen if aliens landed during lockdown...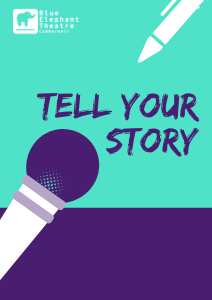 These workshops are for anyone with something to say about themselves!
We will explore the topic of identity (who you are, where you come from), and particularly what it means to grow up locally in South East London. We'll be exploring these themes through writing and performance, looking at how to write a monologue that tells our stories. What would you like the younger generation to know? We will spend a few weeks collecting material and information about ourselves, and then turn this into creative performance, celebrating our own unique heritages and backgrounds.
For ages 16 - 24 (ideally living locally to Blue Elephant), taking place over Zoom. The link will be sent out before the first session, so keep an eye on your email for this.
The course will run every Monday evening between 3rd to 24th August, plus Thursday 27th, from 7.00pm - 8.30pm via Zoom.
Places are FREE, but need to be booked in advance to guarantee a space. Click here to book.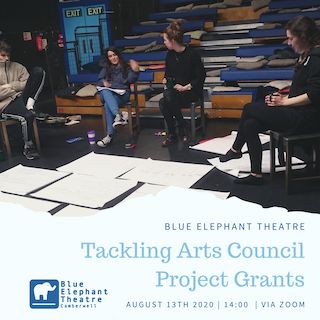 Blue Elephant Theatre offers a free online workshop about navigating Project Grants applications. If the thought of facing Grantium brings on a cold sweat, we aim to help with some reassurance, tips, prompts and clarity.
Project Grants is Arts Council England's open access programme for arts, museums and libraries projects, funded by the National Lottery. It has now re-opened and is accepting funding applications, prioritizing supporting independent organisations, creative practitioners and freelancers.
Blue Elephant Theatre's free workshop will give individual artists and companies in the performing arts the opportunity to explore the application process. Blue Elephant Theatre supports emerging and early career artists, and has a strong track record on successfully advising on project grant applications.
The application process can be daunting so our aim is to demystify, offer a friendly space to discuss the process and lend a helping hand to those intending to apply. The workshop is open to those who have already made applications in the past and those new to the process, as an opportunity to re-familiarise and adapt to the changes in the guidance.
The workshop will:
Introduce the application process
Cover some of the changes in guidance and what's now eligible.
Discuss the "Let's Create' strategy.
Offer an opportunity for questions and trouble shooting.
This workshop is for everyone; whether you have a project you are planning to apply for already or not. If you don't, it might be helpful to come with a hypothetical project in mind but you won't be asked to talk about it unless you'd like to.
This workshop is not a substitute for the general guidance and the supplementary guidance on Project Grants which has been provided during the current Covid 19 crisis. This can be found on the Arts Council England website. You may find that reading it in advance will help you to get the most out of the workshop.
A Cinderella Workshop
An engaging and fun workshop for ages 3 - 7 centred around the story of Cinderella, with a focus on positivity, fairness and encouragement. Enjoy some drama activities before settling down to hear all about Cinderella!
Contains some signposting to support services.
Created by Blue Elephant Theatre who have a long history in developing and delivering work for young people. Performed by Amanda Vilanova.
The workshop is also online in Spanish
An Elephant Never Forgets...
Past shows at the Blue Elephant: if you didn't catch these the first time round, here's your chance to see them elsewhere!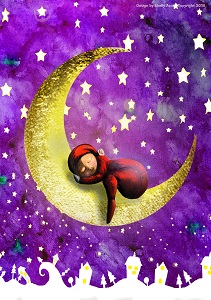 Moon on a Stick has created Little Star@Home, a digital adaptation of their show for ages 0 -2!
Join Little Star as she swings from shooting stars, slides down crescent moons and bounces on fluffy clouds. Using puppetry, music and captivating visuals to delight our young audience, Moon on a Stick lead you through the show so you can join in with all the interaction at home.
Little Star features the popular song 'Twinkle Twinkle Little Star', taking us on a journey with the star herself. Little Star wants to explore space. Not content with the same spot in the sky, she wants to see, hear and touch everything!
Praise for Little Star:
"The music and sensory experience was mesmerising for the babies" Audience member
"My 7 month old little girl loved this production. She was captivated by all the lights and sounds. A great first show for babies and a relaxing time for parents too."Audience member
Little Star@Home is available every Monday for 7 days or for 3 weeks if you purchase the at home props set. Click Click here for more information.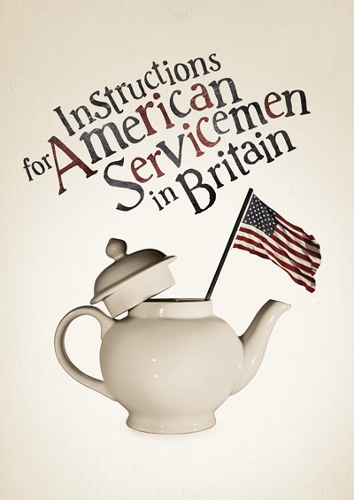 Adapted with kind permission from the Bodleian Library's 1942 publication of the same name, Instructions for American Servicemen in Britain had a fully booked work in progress performance at the Blue Elephant before going on to tour nationally and internationally with sell-out runs in London and New York.
Fol Espoir have chosen to share this live performance to mark the 75th Anniversary of VE Day. It can be seen here.
Fol Espoir has asked those who enjoy the video to please consider donating to Hospice UK's Covid-19 Crisis Appeal – helping to provide desperately needed support for patients, families and frontline hospice staff during this difficult time.
Live performance filmed by Chloe Plumb at the Clapham Omnibus, London.
Written by Dan March, Jim Millard, Matt Sheahan and John Walton
Directed and Produced by John Walton
Performed by Dan March, Jim Millard, Matt Sheahan, aka The Real MacGuffins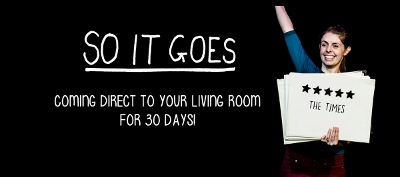 So It Goes comes to your living room.
So It Goes was On the Run's first play, inspired Artistic Director Hannah Moss wanting to make a show about her dad. It became a show about how we respond to grief and how hard it is to talk about death.
It is one of the most successful shows we have supported in its early stages, having both scratch and work in progress performances at Blue Elephant.
When it opened at the Edinburgh Fringe in 2014, The Independent called it "one of this year's breakthrough shows". It played to sell out audiences, receiving a five star review in The Times and four star reviews in The Telegraph, Scotsman, Evening Standard and Independent.
On the Run is now sharing So It Goes online until May 29th and it can seen here
You can access the link FOR FREE but they are asking for a suggested a donation of £3. Of the money raised 50% will go to the Marie Curie Hospice Hampstead. This money will support Marie Curie and the hospice during the COVID19 pandemic.