BET mailing list
Submit your email

BET on Twitter
Loading feed...
Charity number: 1077161
Company number: 3724349
Participation: Introduction
The Blue Elephant Theatre has an extensive and imaginative education outreach programmeThe Stage

Welcome to Blue Elephant Theatre's Participation and Community section. In this section of the site you will be able to find out about and see the exciting arts projects that we are delivering in Southwark.
In Schools:
We are proud to work with our local primary schools where we have provided theatre workshops, end of term plays and professional touring theatre performances. Creative Minds reaches hundreds of young people each year. For more information, please visit the Creative Minds page.
Extra Curricular:
We provide ongoing youth theatre opportunities in our local area through Young People's Theatre and with ReACT. For more information, please see their separate pages. We also have a variety of outreach projects across London, where we provide participation opportunities to many different young people.
We're also running three weekday workshops for primary school-age children during Spring term 2021: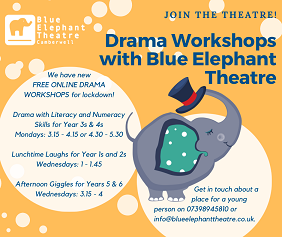 Drama with Literacy and Numeracy Skills
(Aimed at School Years 3-4)
Mondays 3.15pm - 4.15pm or 4.30pm - 5.30pm
Lunchtime Laughs
(Aimed at School Years 1-2)
Wednesdays 1pm – 1.45pm
Afternoon Giggles
(Aimed at School Years 5-6)
Wednesdays 3.15pm – 4pm
Please email info@blueelephanttheatre.co.uk to request a place on these sessions.
Should you wish to know any more about the projects please do not hesitate to get in contact with me.
Jo Sadler-Lovett
Participation Director/Co Artistic Director
jo@blueelephanttheatre.co.uk