BET mailing list
Submit your email

BET on Twitter
Loading feed...
Charity number: 1077161
Company number: 3724349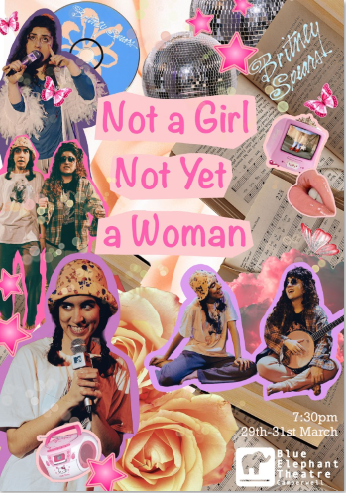 "I'm not a girl, not yet a woman. All I need is time, a moment that is mine, while I'm in between."
Remember that Britney-themed sleepover you had in 2002? Welcome back to your mum's basement, sort of… Come over, put on your pjs, try your best to sing karaoke without waking your dad. But wait, you're not a girl anymore, are you? Are you a woman? Something in-between? None of the above?
In Not a Girl Not Yet a Woman, two confused performers in their late-twenties submerge themselves in Britney's story to interrogate their own adultness. Expect fun noughties nostalgia as they take you through a coming-of-age, Britney-themed sleepover. Dabbling in dance, live music, other-people's-poetry, comedy, and games, they unpack what we can learn from the Princess of Pop (while trying not to have an existential crisis). It's messy, it's a 13-year-old's sleepover nightmare, and it's about control.



About Popsie Theatre


Popsie Theatre is a female, queer, migrant-led devising company based in London. Members include performers Talia Kracauer and Rute Costa, and director Tilney Brune. They joined forces to make movement-based work with a strong comedic vein - camp and entertaining, whilst exploring the political and profound topics that take up a lot of space in our brains.
Content warnings: swearing, partial nudity, discussions of mental illness, heavy use of perfume