BET mailing list
Submit your email

BET on Twitter
Loading feed...
Charity number: 1077161
Company number: 3724349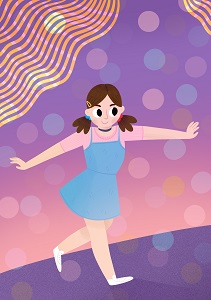 Watch a clown wrestle with the departure of her youth. Featuring physical comedy, mime, audience interaction and improvisation, Noot Patoot is a comical whirlwind of short episodic scenes.
Funny, nostalgic and absurd, clown Natalie Patuzzo's debut solo show has been developed from The Hoe-ly Trinity, created with Soft Pedal Collective, which won the 'Best (Theatre) Play 2019' award at Guildford Fringe Festival 2019. Natalie trained at Rose Bruford College, HAMU Prague, and L'École Jacques Lecoq Paris, and currently works in Nottingham as a drama facilitator.
Noot Patoot is a work-in-progress showing.
Noot-Patoot is presented as part of Elephantology, Blue Elephant Theatre's festival showcasing the work of recent graduates.