BET mailing list
Submit your email

BET on Twitter
Loading feed...
Charity number: 1077161
Company number: 3724349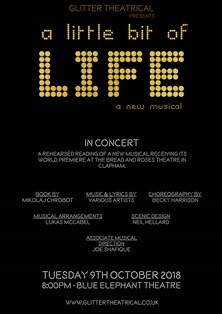 Due to unforeseen circumstances, A Little Bit of Life will no longer go ahead on October 9th
A Little Bit of Life is a fun musical for anyone touched by nostalgia for 1980s pop culture, whether you experienced it the first time round or not. It will premiere in December and will include some of the biggest hits from the 1980s.
In the meantime, join us for a sneak preview of A Little Bit of Life as Glitter Theatrical present a concert featuring a selection of songs from the show. Come listen to your favourite 80s tunes and get a sense of what a fabulous show A Little Bit of Life will be!