BET mailing list
Submit your email

BET on Twitter
Loading feed...
Charity number: 1077161
Company number: 3724349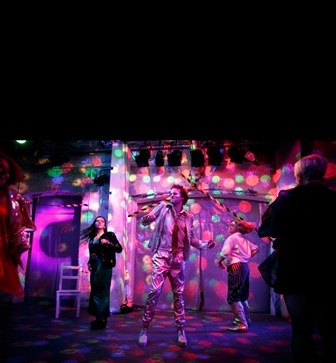 Many of us are searching for somewhere to belong in a world that seems hopeless.
Let Me Shake Your Groove Thing transports the audience to a surreal 1970's disco, a place where anything is possible. The club is home to Disco Mama, charismatic drag queen and matriarch of the club, a mother to all who go there. She performs alongside her young protege, the troubled party girl Victoria Chitty Bang Bang. Together they create a place where anyone can dance.
At the disco we follow the journeys of characters who have been at the fringes of the dance floor: Frankie is trapped in the past and haunted by lost love. Tim uses disco to escape his anxiety and loneliness whilst Victoria has to decide if her loyalties lie with Disco Mama or with her own future.