BET mailing list
Submit your email

BET on Twitter
Loading feed...
Charity number: 1077161
Company number: 3724349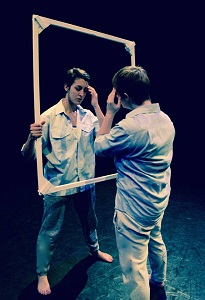 Before It Starts is a brutal and unforgiving take on teenage life, sex, social media and friendships told through physical theatre and clowning.
When a new girl starts school and reveals her controversial sexuality her friends have a lot to laugh about. But when the jokes turn sour and the playful banter becomes bullying, the group realise they have a lot to be sorry for. Unlike other conventional homophobia stories that pity the victim, Before It Starts approaches this story from the bully's point of view, making them likeable, funny, charismatic and oblivious of their own actions.
So sit back, relax and get ready for the rawest, funniest and most offensive ride of your life. It's playful, it's honest, it's daring, it's an education for all! Oh, and remember, it's based on true events and real life accounts!
Q&A Panel: On Wednesday 9th May we will host a post show discussion panel with Naked Frank and with LGBT inclusion advocate and award-winning educator Shaun Dellenty (www.shaundellenty.com). Learn how the show was created and contribute to the discussion on LGBT inclusion and education.
Naked Frank are a physical theatre company who create theatre that makes a positive difference. For this production the company combined written accounts and verbatim text to tell a cold story about homophobia in schools in an outlandish, controversial and hilarious manner.
"We don't believe that theatre can change the world, but it can change an opinion. Change enough opinions and you might just change the world."
Age Guidance: 15+
Press
★★★★★ "Everything is in place: enthusiasm, integrity, uncompromising message: the result is a highly effective piece of theatre." Peter Yates, London Theatre 1