BET mailing list
Submit your email

BET on Twitter
Loading feed...
Charity number: 1077161
Company number: 3724349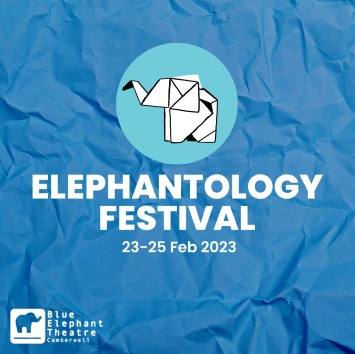 Elephantology is Blue Elephant Theatre's Festival for recent graduates/those who are just entering the performing arts industry. With the support of the Idlewild Trust, we created our Elephantology Festival to offer showcase opportunities as a supportive step into the arts industry.
This year, we are offering three "graduate companies" two performance slots each, from 23 to 25 Feb 2023. These will be performed as double bills.
The offer is:
• 2 performances in our professional venue in a festival setting
• £150 bursary towards the expenses of those taking part
• 50/50 box office split on top of the bursary
• Technical support including an operator for the shows
• Artistic, marketing, press and fundraising mentoring
What you should know before applying:
⦁ We are looking to support those who have entered the performing arts industry in the last eighteen months or will be shortly; if you finished or are finishing training in 2021 or 2022 for instance.
⦁ The pieces should be original pieces and not a remounting of a script by an established writer.
⦁ The pieces should be no longer than an hour, and changeover times will be short. Ideally, set-up time excluding tech should be no longer than 20 min. Please note you will have had a few hours of tech time with us beforehand.
⦁ All collaborators must be over 18 and based in the UK, ideally London.
⦁ For more technical information about Blue Elephant Theatre, please see here: http://blueelephanttheatre.co.uk/companies
⦁ Our stage is 7.5m x 5.5m and we only have one (small) dressing-room which isn't suitable to very large casts.
⦁ Please note that the Blue Elephant's theatre space is on the ground floor and accessible to those in wheelchairs but its upstairs bar area is not.
⦁ We will work with you to make this as rewarding an experience as possible, bespoke to you.
⦁ Blue Elephant Theatre is committed to widening access to the arts and we particularly strive to work with people who reflect our local communities and audiences in Southwark and make work that is relevant to contemporary multi-cultural London. We particularly encourage applications from people who are underrepresented in the arts and/or face discrimination, including people who experience racism, identify as working class, identify as having a disability or are from the LGBTQ+ community.
To apply, please complete the application form here by Friday 21 October midday.
Alternatively, you can record your answers as video or audio files and share those with us at submissions@blueelephanttheatre.co.uk. After you submit your application, we may get in touch with you to ask for more information or to clarify anything we are unsure of. If you would like to apply differently or have any questions, please contact Guillaume at submissions@blueelephanttheatre.co.uk or call 02077010100.