BET mailing list
Submit your email

BET on Twitter
Loading feed...
Charity number: 1077161
Company number: 3724349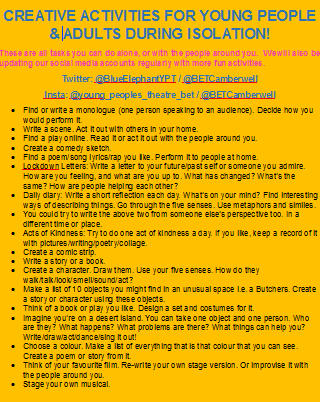 While most people are at home, we wanted to spread the word about activities and opportunities available to you. Every few days, we're going to publish a selection aiming, like most Blue Elephant seasons, to have something for everyone, whether young or old, working in the arts or not...
We're continuing to try to support the artists we work with so these opportunities will be by artists who have worked with Blue Elephant or who are at the very early stages of their careers.
Young People's Theatre - Activities for Self-Isolation
We inevitably had to cancel our showcases this term but Louise Dickinson, who runs Young People's Theatre, created an activity sheet full of drama ideas for young people to try. This is the link to download these Creative Activities
Paradox Theatre Writing Competition*
Paradox Theatre champions new writing by female and non-binary writers. They are running a writing competition for those who identify as female or non-binary, seeking 2 - 4 minute monologues (submitted in doc/pdf format). Submissions should be sent to paradoxtheatreco@outlook.com and the deadline is April 5th. The winning entry will receive £100.
More details can be found on their Twitter page: @TheatreParadox
Starling Arts Nest Choir
The wonderful Starling Arts are starting a choir you can join from home and the first session is tonight. You can find out more here and the sessions are Pay What You Can.
Yoga with Joanna Puchala
Choreographer and very experienced yoga teacher Joanna Puchala shared an online Vinyasa Flow class which can be found here.
Follow Moulded Theatre on Facebook
Moulded Theatre who create imaginative and accessible shows for children are posting daily activities or videos on their Facebook Page which can be found at www.facebook.com/MouldedTheatre
*We think this is a good opportunity and wanted to support by spreading the word but we will also be sure to post opportunities that are open to all in other Tips posts!