BET mailing list
Submit your email

BET on Twitter
Loading feed...
Charity number: 1077161
Company number: 3724349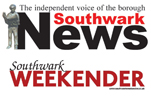 Denmark Hill man cycling gruelling route across France to raise money for The Blue Elephant Theatre
Matt has a 'nagging feeling' he hasn't trained enough but is still looking forward to the challenge.
A Denmark Hill man is cycling 627 miles across France in just eight days to raise money for the Blue Elephant Theatre, Camberwell.
The theatre, based on the Wyndham and Comber Estate complex, supports over 150 vulnerable young people through theatre, dance and writing.
But avid cyclist and Blue Elephant trustee Matt Craig, 59, says the theatre is vulnerable after losing funding from the Arts Council and Southwark Council.
So, on May 5, he will leave Ouistreham on the Channel coast, arriving in Sète, on the Mediterranean, on May 13, as part of a fundraising effort with a £2,500 target.
He has a "nagging feeling" he hasn't done enough training but is still looking forward to the challenge.
"There's a big attraction of going through the French countryside," he said. "There will be nice green hills, orchards and lush meadows… then you go from lush northern Europe to the dryer, rockier, more arid area of Languedoc."
In the north, he will go past Pegasus Bridge, one of the first bridges to be liberated during the D-Day landings.
In the south, he will go through Montauban, one of southern France's most ancient fortified towns.
But it won't be easy and some days will see him cycle 99 miles and climb over 5,000 feet.
Fortunately, on his way around he will stay at one and two-star hotels, offering respite from days of relentless pedalling.
Having spent his career as a financial journalist, Matt is now a trustee on The Blue Elephant's board.
The community hub and theatre group does outreach work with local schools and communities, and also hosts live theatre.
It's been the recipient of numerous awards, and supported the careers of successful theatre-makers like Offie Award-winning costume designer Emily Stuart and director David Mercatali.