BET mailing list
Submit your email

BET on Twitter
Loading feed...
Charity number: 1077161
Company number: 3724349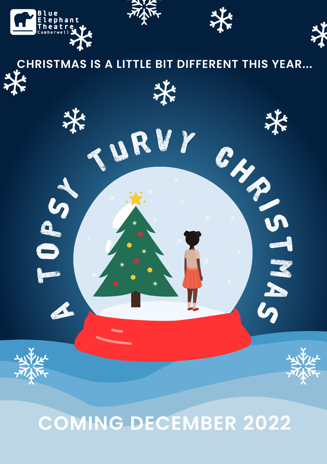 Blue Elephant Theatre is excited to be mounting an in-house family Christmas show A Topsy Turvy Christmas - we are looking for two women to fill the roles of Robin and Mother / Santa / Baubles.
Combining comedy, audience interaction and a heartwarming message, A Topsy Turvy Christmas is a story about navigating change, listening to ourselves and finding Christmas magic wherever you go.
Aimed at ages 4-8 years.
REHEARSAL DATES
Nov 25th & 27th (9am-5pm)
Dec 1st, 2nd & 4th (9am-5pm)
Additional rehearsals (to be confirmed asap if funding allows): Nov 6th, 10th, 11th, 13th & 24th (9am-5pm)
Tech & Dress Rehearsal: Weds 7th December
PERFORMANCES
Thursday 8th – Friday 9th December (shows at 10.45am and 1.30pm)
Saturday 10th and Sunday 11th December (shows at 2pm and 4pm)
Monday 12th - off
Tuesday 13th – Thursday 15th December (shows at 10.45am and 1.30pm)
Friday 16th - off
Saturday 17th and Sunday 18th December (shows at 2pm and 4pm)
Performances TBC:
Monday 19th (shows provisionally at 10am, 11.30am and 2pm)
Tuesday 20th (shows provisionally at 10am & 11.30am)
FEES
Performances paid at weekly ITC min rate of £494 per week (2 weeks total confirmed; more TBC)
Rehearsal days to be paid at ITC min daily rate £100 per day (5 days confirmed; more TBC)
CASTING BREAKDOWN
Mother/Santa/Baubles
Woman, playing age 25+, any ethnicity
This is a dynamic multi-role part requiring a versatile actor who can balance physical comedy and slapstick with emotional depth. We are looking to cast a woman for this role, playing age 25+ and we have no specific ethnicity in mind for this character.
Robin
Black woman, playing age 16-25 (character is a child)
Our young protagonist who drives the story. We are looking for an energetic actor who our audience can relate to and can engage well with the children watching. This role will require a sense of playfulness, but an ability to connect with a range of emotions. We are looking for an adult actor who can capture the energy of a child and we are ideally looking to cast a black woman in this role.
Good comic timing, movement skills, and a strong singing voice are helpful for both parts. Puppetry skills/experience may also be helpful for both parts. Ideal applicants will have considerable experience of children's theatre and the ability to react quickly and ad-lib in response to audience interaction.
HOW TO APPLY
Please apply via our audition notice on Spotlight or by emailing submissions@blueelephanttheatre.co.uk by end of day on October 13th with a CV/spotlight link and short cover note outlining your suitability for the project.
You are welcome to send the cover note as a video or voice note.
If emailing, please entitle the email 'A Topsy Turvy Christmas' and address it to Alice Gentle indicating which character you are more interested in. It would be helpful if you could indicate if you have had a DBS check within the last three years and could fill out this monitoring form.
We aim to hold auditions at Blue Elephant Theatre on Wed 19 and Thu 20 October (morning), with recalls tentatively on Fri 21 Oct (morning).
For more information, you can download our full casting breakdown here: Casting call - A Topsy Turvy Christmas
Please email Guillaume at guillaume@blueelephanttheatre.co.uk if you have any further questions.