BET mailing list
Submit your email

BET on Twitter
Loading feed...
Charity number: 1077161
Company number: 3724349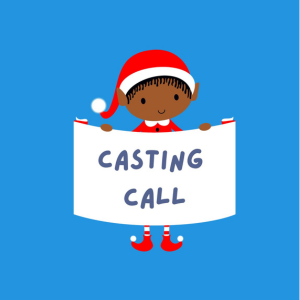 Blue Elephant Theatre is excited to be mounting an in house family Christmas show The Elf who Saved Christmas.
When Santa falls ill on Christmas Eve, there's only one Elf who can make sure the presents are delivered all over the world. Inspired by conversations with young people, The Elf who Saved Christmas touches on celebrations across the globe as our Elf rushes to deliver every single last present!
Aimed at ages 3+, we are looking to create a show that is full of joy, humour and playfulness, and represents our local communities onstage. Our Christmas shows are a highlight of our year, usually selling out completely and always receiving positive feedback, as well as being an offwestend.com finalist in 2021.
Dates:
Rehearsals: Monday 27th November – Friday 1st December, 9am – 6pm
Tech & Dress Rehearsal: Sunday 3rd December
Performance Days:
Tuesday 5th – Friday 8th December (shows at 10.45am and 1.30pm)
Saturday 9th and Sunday 10th December (shows at 2pm and 4.30pm)
Monday 11th - off
Tuesday 12th – Friday 15th December (shows at 10.45am and 1.30pm)
Saturday 16th and Sunday 17th December (shows at 2pm and 4.30pm)
There is a possibility of extra performances being added to some days.
Total Payment: £1744 including holiday pay for the above schedule.
Casting Breakdown:
Elf (also multiple roles including playing a Nigerian child and a Jamaican elder) – Eager to please, Elf is often overlooked because they are neither exceptionally good at anything nor any trouble at all. We are looking for a Black actor of any gender, who is able to do Nigerian and Jamaican accents.
King (also multiple roles including playing Elf Supervisor and a number of child characters) - King is the main storyteller of the show, jumping in and out of the story. We are looking for a Latin American or Spanish actor of any gender, who is also able to sound like a London child.
Good comic timing and movement skills are helpful for both parts and actors should be comfortable leading Christmas carols. Puppetry skills/experience may also be helpful. Ideal applicants will have experience of children's theatre and the ability to react quickly and ad-lib in response to audience interaction.
How to apply: Please apply via our audition notice on Mandy or by emailing submissions@blueelephanttheatre.co.uk by end of day on Thursday November 2nd with a CV/spotlight link and short cover note outlining your suitability for the project. You are welcome to send the cover note as a video or voice note. If emailing, please entitle the email 'The Elf who Saved Christmas' and address it to Jo Sadler-Lovett and indicate which character you are applying for. It would be helpful if you could indicate if you have had a DBS check within the last three years.
We will hold auditions at Blue Elephant Theatre on Friday 10th November between 10am and 1pm. Any call backs will be on Monday 13th November.
.
For more information about Blue Elephant Theatre, please visit our website www.blueelephanttheatre.co.uk.
Blue Elephant Theatre welcomes applications from all sections of the community regardless of race, colour, ethnic or national origins, marital status, sex, sexual orientation, disability or religious beliefs. With our children's shows especially, however, we always aim for our casting to reflect our multi-ethnic local community. Please note that our performance space is on the ground floor, where there is also an accessible bathroom, and is accessible for wheelchair users but our upstairs bar is not.
The Elf who Saved Christmas is funded by Southwark Council's Culture Together Fund.