BET mailing list
Submit your email

BET on Twitter
Loading feed...
Charity number: 1077161
Company number: 3724349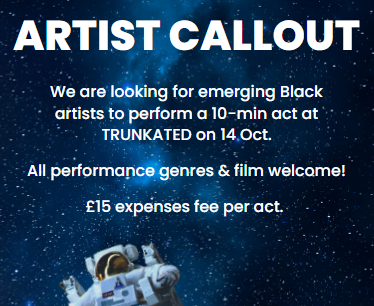 We are on the lookout for emerging Black artists who are willing to showcase up to 10 min of their work as part of our upcoming scratch night TRUNKATED: AstroBlack.
The event will be taking place on 14 October at 7:30pm at Blue Elephant Theatre in Camberwell. Artists may need to get there an hour early (or earlier depending on their tech needs).
We are interested in a very broad range of genres: music, film, theatre (scenes or monologues), spoken word, poetry, movement / dance - feel free to apply even if your artform doesn't fall within these categories!
Blue Elephant will cover £15 worth of expenses per act.
To apply, please complete this form by Friday 7 October: TRUNKATED application form
Please email submissions@blueelephanttheatre.co.uk if you have any questions or if you would like to apply differently.