BET mailing list
Submit your email

BET on Twitter
Loading feed...
Charity number: 1077161
Company number: 3724349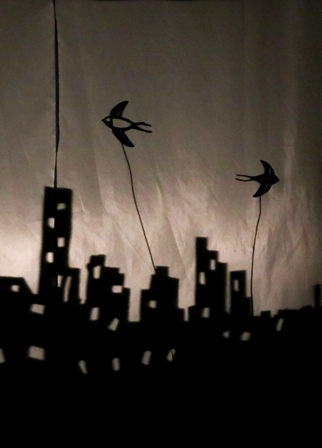 Through shadow puppetry and storytelling we are magically transported on the annual migration of a young lesser striped swallow Sam. Her world is irrevocably changed when she looses her mother over Lagos, Nigeria and she is left to navigate the world alone. Along the way she meets many friends who help her find her way home and who all share their stories of their changing environments due to climate change.
The Adventures of Sam Swallow is a poignant play with a message, to young and old alike, that we must protect and care for our environment, and the creatures that inhabit it.
This educational, but ultimately hopeful story is brought to life through physical theatre and shadow puppetry.
The Adventures of Sam Swallow is suitable for all ages but ideal for ages 6 - 10.
Tickets are available for:
Sunday 10th March at 14:00 & 16:30
Monday 11th March at 10:45 & 13:30
Many thanks to Oliver Stephens , whose knowledge and help has been greatly appreciated in creating the show and Rubba Abboud for funding the initial phases of the play.
Reviews

It's a positive, uplifting show with real heart, and an important message about climate change, having respect for nature, and preserving native species.
Primary Times