BET mailing list
Submit your email

BET on Twitter
Loading feed...
Charity number: 1077161
Company number: 3724349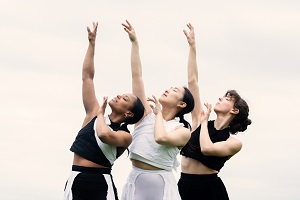 "Nothing is softer or more flexible than water, yet nothing can resist it" - Lao Tzu
harmony. 天人合一 is a physical play which explores the impact oil drilling and a culture of extraction has on our greatest natural resource, water. Through theatre and dance this work exposes our greed for oil, the desires of a capitalist society, and apathy in the face of a climate emergency.
Three performers represent water spirits inspired by East & Southeast Asian mythologies and Chinese philosophy. Together they shepherd us through a journey of water being corrupted by oil and human intervention but water remembers where it has been and what has dissolved in it, so the question this play asks is, what does an enraged and incensed water do? An immersive sound design and composition underscores moments of rhythmic and percussive movement and evocative text.
Produced by award-winning British East & Southeast Asian theatre company Ellandar Productions, harmony. 天人合一 was originally commissioned by Certain Blacks for Ensemble Festival 2022 and further supported by The Pleasance Theatre Trust, Centre151, and Blue Elephant Theatre. This work is funded by Arts Council England.
Photo credit: Camilla Greenwell