BET mailing list
Submit your email

BET on Twitter
Loading feed...
Charity number: 1077161
Company number: 3724349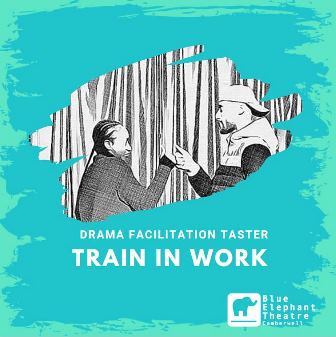 Are you interested in learning to run drama sessions with young people?
Blue Elephant Theatre are delighted to once again be running their successful Train in Work programme. A training and work project designed for 18-24 years olds which will introduce participants to the world of arts facilitation and give them experience running sessions with young people. We're looking to recruit trainees who are not in Employment, Education or Training or are at risk of becoming so and/or who face other barriers to working in the arts.
This 1.5 hour online session offers a taste of the project, discussing what the role of a drama facilitator is and the skills and benefits that can be gained from drama. We will introduce drama activities, ice breakers and activities to promote concentration and self-expression, all of which you'll learn to run yourself through the Train-In-Work programme.
There will be two sessions; one on Wednesday 25th November from 3pm - 4.30pm and one on Thursday 26th November from 2pm - 2.30pm.
*Applications are open for the full programme and details can found here although more information about this will be given at the taster.
Please book below via Tickets Ignite and we will send out the link before the sessions. Please use the tab button if you have difficulty accessing fields or you can book directly through this link.