BET mailing list
Submit your email

BET on Twitter
Loading feed...
Charity number: 1077161
Company number: 3724349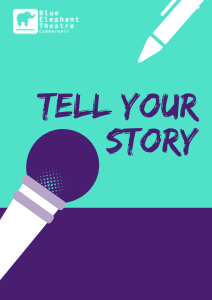 These workshops are for anyone with something to say about themselves!
We will explore the topic of identity (who you are, where you come from), and particularly what it means to grow up locally in South East London. We'll be exploring these themes through writing and performance, looking at how to write a monologue that tells our stories. What would you like the younger generation to know? We will spend a few weeks collecting material and information about ourselves, and then turn this into creative performance, celebrating our own unique heritages and backgrounds.
For ages 16 - 24 (ideally living locally to Blue Elephant), taking place over Zoom. The link will be sent out before the first session, so keep an eye on your email for this.
The course will run every Monday evening between 3rd to 24th August, plus Thursday 27th, from 7.00pm - 8.30pm via Zoom.
Places are FREE, but need to be booked in advance to guarantee a space. Click here to book.