BET mailing list
Submit your email

BET on Twitter
Loading feed...
Charity number: 1077161
Company number: 3724349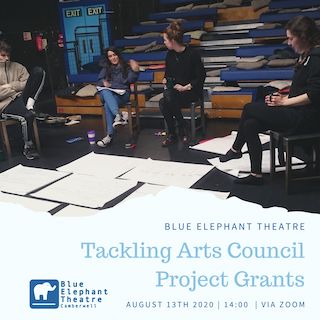 Blue Elephant Theatre offers a free online workshop about navigating Project Grants applications. If the thought of facing Grantium brings on a cold sweat, we aim to help with some reassurance, tips, prompts and clarity.
Project Grants is Arts Council England's open access programme for arts, museums and libraries projects, funded by the National Lottery. It has now re-opened and is accepting funding applications, prioritizing supporting independent organisations, creative practitioners and freelancers.
Blue Elephant Theatre's free workshop will give individual artists and companies in the performing arts the opportunity to explore the application process. Blue Elephant Theatre supports emerging and early career artists, and has a strong track record on successfully advising on project grant applications.
The application process can be daunting so our aim is to demystify, offer a friendly space to discuss the process and lend a helping hand to those intending to apply. The workshop is open to those who have already made applications in the past and those new to the process, as an opportunity to re-familiarise and adapt to the changes in the guidance.
The workshop will:
Introduce the application process
Cover some of the changes in guidance and what's now eligible.
Discuss the "Let's Create' strategy.
Offer an opportunity for questions and trouble shooting.
This workshop is for everyone; whether you have a project you are planning to apply for already or not. If you don't, it might be helpful to come with a hypothetical project in mind but you won't be asked to talk about it unless you'd like to.
This workshop is not a substitute for the general guidance and the supplementary guidance on Project Grants which has been provided during the current Covid 19 crisis. This can be found on the Arts Council England website. You may find that reading it in advance will help you to get the most out of the workshop.