BET mailing list
Submit your email

BET on Twitter
Loading feed...
Charity number: 1077161
Company number: 3724349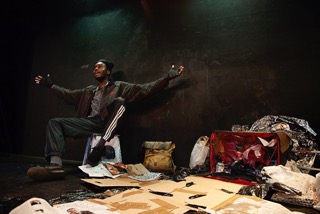 As Refugee Week begins, the Blue Elephant is delighted to be taking part in the celebration of the contribution refugees make to the UK and to join in encouraging better understanding between communities, both this week and beyond.
On Friday June 22nd, the Blue Elephant is hosting A Very Elephant Afternoon from 3.30pm! Our Participation Officer Louise Dickinson is running a fun drama session for all the family. There'll be the opportunity to play games, make up stories, laugh and have fun together. This workshop is particularly aimed at families from refugee backgrounds but all are welcome. Find out more here.
On July 1st, Maya Productions' The Croydon Avengers asks how three teenage refugees can become the saviours of a doomed nation? A freak accident at Gatwick deportation centre gives three friends powers beyond their wildest dreams. This trio of masked vigilantes send Croydon's crime rate plummeting, but Regina Rump and her media proclaim them to be a threat to British identity! Maya Productions find stories that don't often get told and look for new ways of telling them. The Croydon Avengers/strong> is a vibrant, action packed and funny new play for young people aged 8-14, written by Oladipo Agboluaje.
Finally, Flugelman Productions' Boxman offers another perspective, as Reice Weathers plays Ringo in this one man show by Daniel Keene. Displaced from his homeland, Ringo is sheltering in a cardboard box in an inner city park. Inside his makeshift 'home', Ringo lives a life rich with stories and songs of a childhood far away, a family tragically lost and the complicated promise of a new beginning. Flugelman Productions will be collecting for the Refugee Council after their performances from July 4th to 6th at 8pm.
★★★★★ This is my pick of the Fringe by a country mile. If I could give it six stars, I would. – Simon Lovat, Broadway Baby at Brighton Fringe 2018
Booking for all three of these events is still available. If you have any questions then please do not hesitate to get in touch by calling us on 020 7701 0100 or emailing info@blueelephanttheatre.co.uk.