BET mailing list
Submit your email

BET on Twitter
Loading feed...
Charity number: 1077161
Company number: 3724349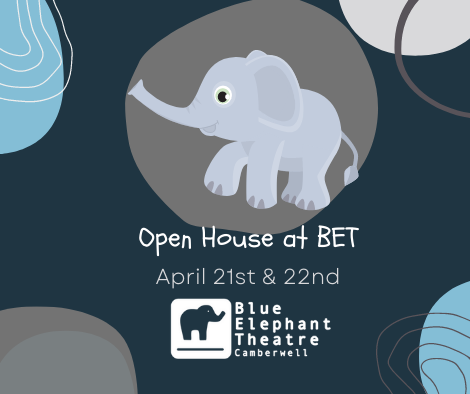 Join us on Thursday 21st and Friday 22nd to meet our incoming programming team for this coming year and say goodbye for now to co-Artistic Directors, Niamh and Jo!
Blue Elephant's ethos of supporting bold new work and early career artists remains at the heart of our programming, which will soon be looked after by Guillaume and Alice.
After a quiet few months, we can't wait to be looking to the future more and invite you to come meet us and see if working at the Blue Elephant is for you. Our usual agreements include a 50/50 box office split, bespoke marketing, fundraising and creative support and some free rehearsal space. We champion early career and independent artists, particularly from under-represented backgrounds, and new work. We will rarely programme productions of established scripts or work that has already had significant runs in London.
If you'd like to find out more about us, join us on Zoom on Thursday 21st April from 10.30am – 11.30am or come along to the Blue Elephant from 6.15pm on Friday 22nd April.