BET mailing list
Submit your email

BET on Twitter
Loading feed...
Charity number: 1077161
Company number: 3724349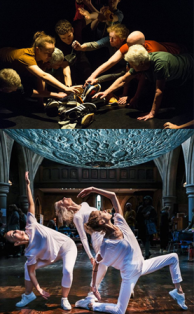 A Counterpoint Dance Company and Lunar Salute Company double bill
The performance also includes dance films:
Interprète - Inappropriate Behaviour (2015) by Sonia Yorke-Pryce
Journeys of Internal Migration by Counterpoint Dance Company
The Space Between by choreographer Mary Davies and film maker Eleanor Mortimer
Counterpoint Dance Company presents Murmurations: The Last Bird.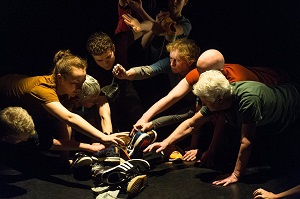 Murmurations: The last Bird is a dance work that questions the world as we observe its slow destruction through human behaviour. We are observing climate change, a change in the resources of our planet and what impact that has on humans and animals. We ask: What would happen if there was only one bird left? How would we feel if nature was destroyed? If we would not be able to hear another bird singing?
Counterpoint Dance Company share a passion for valuing older dancers and their potential by developing them as dance artists and performers. They believe in bringing high quality work to theatres, festivals, community and non-traditional arts settings. With their work, they wish to inspire younger and older people to go beyond their limitations, believing as they do in the transformational power of dance.
With thanks to Ann Clifford for the inspiration provided by her poem, Murmurations, and to Silvana Desira for her contribution to costume design and choice.
Seeing Earth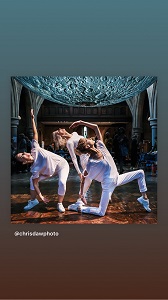 Have we let the planet down?
Only fifty years since the moon landings, is the Earth irretrievably broken thanks to our careless behaviour?
Seeing Earth shows how we landed on the moon and saw Earth for the first time. It takes the elements of Earth, Air, Sun and Sea, showing their beauty and questioning the future.
Lunar Salute Company is a small collective of older professional dancers who came together in 2019 to make pieces that challenge everyday beliefs and expectations. Their first piece Lunar Salute was made for a celebration of the fiftieth anniversary of the moon landings and was danced under Luke Jerram's moon sculpture at Bloomsbury Festival. Following the success of Lunar Salute's first showing, the collective have developed work, expaning on the theme of a view of the Earth from space. In Seeing Earth, they ask if that perspective of incredible beauty has stuck with us?
Lunar Salute consist of three core members, Fionuala Power, Simona Scotto, Teresa Thornber-Mann (known as TT). For this performance at Blue Elephant Theatre, they will be joined by guest artists Nicholas Minns and Kim Mendez.
Original concept: Teresa Thornber-Mann
Music: from Skylight by Kim Planert
Photo Credit: Chris Daw