BET mailing list
Submit your email

BET on Twitter
Loading feed...
Charity number: 1077161
Company number: 3724349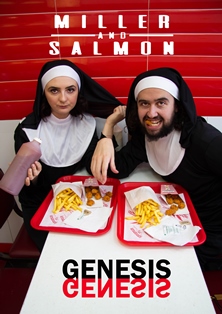 The Jesus Christ and Mary Magdalene of sketch comedy will soon arrive on the moors of Edinburgh - following a stop at ye olde Camberwell. Hold tight as you go on the bumpiest, most dazzling experience of your life with this iconic, potty-mouthed pair.
Fresh out of Soho Theatre's Young Company and Sketch Off! semi-finals, expect big fat massive laughs, synchronised swimming, Russian meat vendors, Dirty Diana Spencer, the late great Marilyn Monroe, A LOT of lip-syncing, choreography and sexy Bette Midler. Don't miss out on what will surely be the birth of two outstanding, beautiful, sexually available comedy legends / big fat huns. Following London previews, Miller & Salmon: Genesis will play Just the Tonic at the Charteris Centre August 1st - 25th (not 3rd or 12th), 4.40pm, as part of Edinburgh Festival Fringe.
Since training at National Youth Theatre and Soho Theatre's Young Company, Lucy Miller and Benjamin Salmon have been writing and performing together, on the quest to become the comedy equivalent of the Spice Girls. They have performed at venues including Soho Theatre, Rosemary Branch Theatre, Hackney Showroom, and were semi-finalists of this year's Leicester Square Theatre's Sketch Off Competition.
Prepare to be amazed.