BET mailing list
Submit your email

BET on Twitter
Loading feed...
Charity number: 1077161
Company number: 3724349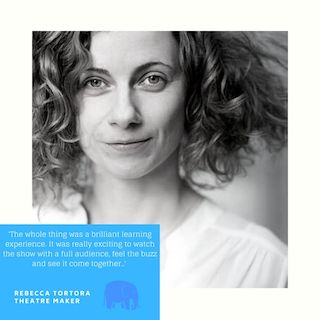 Why did you want to direct Ante?
When I was working at BET as Education Officer Jasmine asked me if I wanted to direct a rehearsed reading of Ante as part of Writers at Work. It went well and then BET decided to programme it as a fully realised production which was a great opportunity.
I really liked the way the play took a news headline of a big picture political conflict, the Croatian war of independence, and made it personal through one family's experience. I also really enjoyed the theatricality in the script, juxtaposing intense emotional content with the actors describing their actions from the outside.
The writer, Ivor Martinic, had developed the script from improvisation and it had a free, spacious quality to it which allowed for a visual style of storytelling. I tried to recapture that in the show so that the actors were always on stage, jumped in and out of character and discovered the story as they performed.
What are your favourite memories of the show?
I got to work with a really lovely team of people who all brought lots of energy, creativity and positivity to the process.
Playing with recreating a sense of improvisation was a creative challenge for me and for a while it slowed down the action. George Mann and Nir Paldi from Theatre Ad Infinitum had been working at BET and came in and watched a run about halfway through. They gave me some really useful feedback which helped to unlock the energy of the play. The cast were great and really went for it.
It was exciting working with Dinah Mullen on the sound design. She introduced a simple sung live theme which recurred at various moments and some recorded sound too. Live singing is something I've incorporated in all the shows I've done since. I love it!
It was also really great to work with the design team on creating a world of newspaper and a white box theatre that could be drawn on like a giant white board. It was lovely to play with lighting on white walls.
The whole thing was a brilliant learning experience. It was really exciting to watch the show with a full audience, feel the buzz and see it come together.
I'm forever grateful to Jasmine for taking a chance on me as a director. Thanks!
How would you describe Blue Elephant in one sentence?
Fun, inclusive, experimental, DIY, kind, community oriented and unpretentious.
Are you working on any shows now?
I've just made a show called #TheMarket which looked at the themes of consumerism and self-worth. It explored cryptocurrency, pyramid selling, cryogenics, fake news, social media and the art of manifestation. It was created with students from East15 Acting School and I'm now adapting it for a small professional cast.
I'm putting together a bid for 'Theatre on Film Fest' an online festival of new work focussing on magical realism, physical theatre and new stories created by theatre makers and shot on mobile phones. If funded this will take place early next year.
I'm also planning to R and D a one-person show, 'Flying or Falling,' to be filmed and presented digitally, exploring the theme of mortality through extreme selfies, base jumping, astral projection, masks and painting with your eyes.