BET mailing list
Submit your email

BET on Twitter
Loading feed...
Charity number: 1077161
Company number: 3724349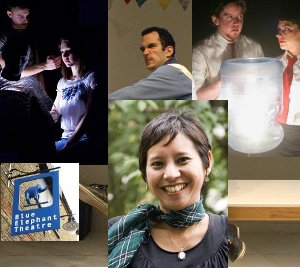 Watching a theatrical production, it may seem to us, the humble audience, that the stars of the show are the actors performing on stage. But in fact, it takes a huge team, all working hard behind the scenes to put a production together. And so, we've taken a peek behind the curtain and found out a little more from one talented young lady working at one of the UK's most innovative performing arts venues, The Blue Elephant Theatre in Camberwell. Meet Jasmine Cullingford…
Have you always wanted to be an Artistic Director?
I've always wanted to work in a theatre, yes (I did my school work placement at the Contact Theatre), but I never thought I'd be lucky enough actually to run one myself!
How did you get to where you are today and would you do anything differently?
I did a lot of work experience and part-time work whilst still at uni: I was Student Rep for both the Royal Shakespeare Company and the Royal Court Theatre, where I had a three-month summer work placement, and on my year abroad (I studied French and Italian), I volunteered at Franco American Cinema Theatre, a drama school in Paris. I also worked at my university's theatre, The Bloomsbury. On graduating, I went to work for the Orange Tree Theatre and then on to Theatre Royal Stratford East before coming to the Blue Elephant. I have learnt something from all my jobs and met great people along the way – I don't think I would do anything differently.
What does being an artistic director involve on a day-to-day basis?
One day can be dedicated to artistic work, seeing productions, reading plays or casting actors. Another can be deciding what cover to choose for our brochure and how we're going to market the season. And yet another can be entirely office-based working on balancing the books or writing contracts. Each day is very different.
What do you think is the biggest problem in British society today?
So many people's lack of respect for others and for themselves.
And what is the most positive thing?
Our tolerance of difference.
How do you feel about the funding crisis in the arts?
A particularly pertinent question given our main funder, Southwark Council – which has kindly supported us since we were founded – has yet to make its arts funding announcements for this year… The arts enhance and transform people's lives and can play a vital role in motivating young people. I strongly believe in state sponsorship of the arts, particularly of grassroots organisations such as the Blue Elephant which cannot rely on audience members being rich benefactors, or corporate companies who understandably want something in return for their money: they support blockbuster exhibitions and nights at the opera; they rarely give to fringe theatres where they can't easily entertain clients and where their name can only ever be advertised to fifty people a night…
Charities such as ours provide incredible value for money, functioning on minimal subsidy, relying on the hard work and dedication of our volunteers and the goodwill and support of the community. Yes, there are trusts and foundations that arts organisations can apply to but not only is demand for grants exceptionally high now, but these do not provide the secure long-term funding that the state can provide. It is unrealistic to think otherwise.
Is theatre essentially quite elitist in the UK?
When you can go to the National Theatre for a tenner, no, I don't think you can say that…!
What does the BET do to encourage community involvement?
We have an extensive education remit which encompasses working in local primary and secondary schools, after-school and holiday clubs and two youth theatres. We have just put on our first community play which local residents wrote and starred in and produced themselves, a project we very much hope to do again. All our outreach work is provided free of charge. We provide work experience placements to local students and residents and we also have a Southwark residents' discount for all our shows.
How easy is it for young playwrights to get their work on stage?
The Blue Elephant supports new playwrights of whatever age, but there are a number of theatres in London which particularly support young writers (such as Soho Theatre, the Royal Court and the Old Vic New Voices scheme). If they have the potential to be the Next Big Thing or hit on the new zeitgeist, they might be lucky enough to have work premiered at one of these venues. If their writing is not in vogue for whatever reason, however, it can be very difficult to get work on stage.
Do you feel British or European?
British.
How are theatres using the online space today?
The web is very useful as a marketing tool. Theatres usually have Facebook, Myspace and Twitter accounts (we have our own Social Networking Co-ordinator for example) and well-developed websites with cast members writing blogs and YouTube trailers. Theatre is so much about the live, shared experience in the real space though, that there is a limit to what one can or needs to do in a virtual arena. You can't replicate being in the theatre and feeling the rush of air as performers glide past you or being part of a cumulative build-up of laughter at a comic scene. At the Blue Elephant you can also usually find the cast and crew in the bar afterwards so you can give feedback directly rather than online (although I would advise the latter if your comments are negative…!).
How do you feel about celebrity involvement with the theatre?
Not something we've ever had a dilemma about here at the Blue Elephant, given we work with new and emerging artists (the celebrities of the future perhaps…?!). Personally I'm not very up on who's who – I don't have a TV so I generally never know who the celebs are! I would never be interested myself in seeing something just because someone famous was in it, but if it gets someone into the theatre who would otherwise not go, I see nothing wrong with that.
One production that you'd like to see at the BET?
All our work is new so that's a difficult one for me to answer… The production that I'd like to see is probably still a seed in the head of an artist at the moment…!
Who are you listening to at the moment?
The new British Sea Power album, Erland and the Carnival (who were my band of 2010), Lully (whose opera 'Bellerophon' I've just been to see at Versailles), and old favourites The Bluetones.
What has been your favourite production (or productions) at the BET to date?
I think I might upset a few people were I to pick out personal favourites, but our most critically successful or artistically ambitious productions include Theatre Ad Infinitum's 'Behind The Mirror' (a tale told entirely through mime), Swedish cabaret duo Scandimaniacs' 'Take Me To Hollywood!', Sebastian Rex Dance Group's 'God Cried Woof' (Beethoven's 3rd Symphony choreographed in its entirety), Lazarus Theatre Company's 'Othello' which won the Broadway World Best Regional or Fringe Play Award 2010, 'Jukai' (a Japanese-drumming piece), and the world premiere of 'The Cave' by Mervyn Peake, author of 'Gormenghast', directed by Aaron Paterson.
What couldn't you live without?
The calming influence of my husband!
Dream purchase?
My dreams aren't generally very materialistic… Maybe a Craigie Aitchison 'Crucifixion' painting?
Favourite movie?
Another tough question! There are so many… After Life (Hirokazu Koreeda), The Colour of Paradise (Majid Majidi), The Band's Visit (Eran Kolirin)… My favourite movies of last year were Of Gods & Men (Xavier Beauvois), and A Single Man (Tom Ford).
Favourite European city and why?
London of course! Paris and Rome are other obvious choices for me as I know them well, but as I'm sure most people will already name these, I'll just put a 'shout out' in for Ghent where I went to the Flanders Festival a few years ago (a wonderfully eclectic mix of classical music and the performing arts) – it's as equally picturesque as its more touristy neighbour Bruges. I think Belgium is very under-rated – its people are friendly and unassuming and it has great food and drink.
How do you stay motivated?
Very easily… At each performance when I see the artistic results of what our creative teams have worked tirelessly towards, the dedication of the Blue Elephant team in promoting that work and good feedback from audience members, I know all the hard effort is worthwhile.
Desert island book?
Graham Greene's The Power and the Glory.
Favourite bar?
I like bars where I can do something cultural first (so I don't feel so guilty when I spend the rest of the night drinking…!). In Manchester, where I'm from originally, I love the Cornerhouse, and in London I like the Young Vic bar and that at Tate Modern with its view overlooking the Thames. The National Gallery Café is also a great place where you can easily get a seat on a Friday or Saturday night; very rare for central London.
Where do you see yourself in five years?
I'm keeping my fingers crossed that despite the economic climate, financial and public support for the arts continues… So I hope I'll still have a job in the arts come then!
Can you run in heels?
I know I can run as I've been told that I never seem to walk anywhere! But I don't know if I can do so in heels… I generally wear ballerina pumps or run around the theatre barefoot!