BET mailing list
Submit your email

BET on Twitter
Loading feed...
Charity number: 1077161
Company number: 3724349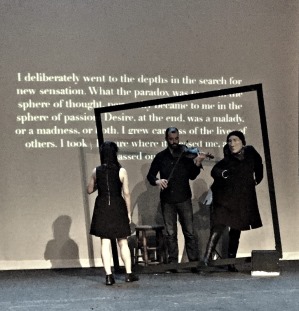 At the Heart of Things is a dance-puppetry performance inspired by Oscar Wilde's book De Profundis. Movement improvisation, visual imagery and devised text create a contemporary adaptation that dives into female sexuality, queer identity and homophobia.
In a dystopian world where growing fear takes centre stage, two young women Lilly and Nina are dancing in a nightclub. When a gunman enters and opens fire, nothing will be the same again. Lilly tries to make sense in a senseless world. What does it mean to be a woman? What does it mean to fall in love? Out of her frustration, Oscar Wilde will be born, to guide her, page by page, towards rediscovering her sexuality and womanhood.
''An intriguing show to watch, full of little flashes of beauty and excellence.'' Views from the Gods
Vertebra Theatre is a physical and visual theatre company that creates international devising, puppetry and film work. Their previous work includes Dark Matter, which had a sold-out run at the 2017 Edinburgh Festival Fringe.