BET mailing list
Submit your email

BET on Twitter
Loading feed...
Charity number: 1077161
Company number: 3724349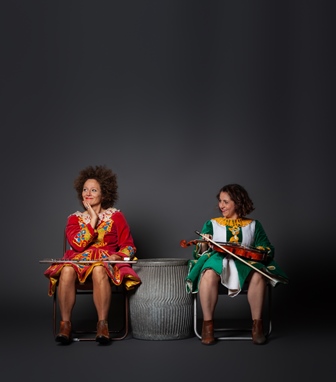 Good Blood looks closely at the relationship between two sisters. Keira and Sioda use dance, live music, song and storytelling to bring hilarious, nostalgic and familiar family scenarios to the stage. Their honesty and humour shed light on the bonds that hold us together and the people who make us who we are.
Keira Martin and Sioda Adams were born and bred in Barnsley, Yorkshire. They trained at the Northern School of Contemporary Dance and have gone on to have successful careers working for the past 20 years travelling around the globe, including; Bermuda, Jamaica, Costa Rica, Brazil, Spain, USA and Ireland, to name but a few.
The two sisters are inspired and influenced by their working-class upbringing, politics and Ireland, where their parents came from. They are both mothers and have an unforgettable dynamic that is humorous and heartwarming. If there is one thing they both agree on, it's that you don't get owt without hard graft.
Praise for previous work:
"These are the stories that people must hear; this is the art people must experience if we are going to live in the compassionate world most of us desire to live in."
danceartjournal.com
"The sheer physicality of the performance was stunningly visceral"
Audience Member
Commissioned by Northern School of Contemporary Dance - Northern Connections, 2Faced Dance Company - The Bench Seed funding, with support from Yorkshire Dance, Vincent Dance Theatre, Spin Arts and Dance City.