BET mailing list
Submit your email

BET on Twitter
Loading feed...
Charity number: 1077161
Company number: 3724349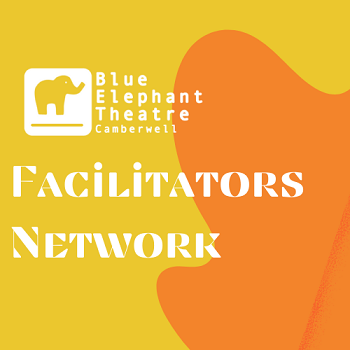 At Blue Elephant Theatre we are creating a Facilitators Network, and we want to invite you to join us.
The journey of freelance Theatre & Performance facilitation is incredibly rewarding but also challenging. Co-Artistic and Participation Director, Jo Sadler-Lovett has worked as a drama facilitator for 15 years, it is from this experience that the idea for this network is born.
Professional stress and isolation can play a damaging part in our lives, especially when compounded by the impacts of the Covid-19 pandemic. We want to build support amongst peers locally so that everyone feels they have colleagues in the industry that they can relate to.
We want to invite facilitators with all kinds of experience to join us in creating this space. We particularly encourage facilitators who work or live in South London.
Our first meeting will be via Zoom on the 28th of January from 10:30 am to 12 pm.
If you can't join us this time, just drop us an email at mariana@blueelephanttheatre.co.uk so we can keep you in the loop for the following meetups.
We will meet bi-monthly, in a mix-mode (virtual and in-person meetings when possible), share some tea, coffee and/or biscuits, and explore new approaches, test ideas, find creative solutions to problems, but most important of all, create meaningful connections with other humans!