BET mailing list
Submit your email

BET on Twitter
Loading feed...
Charity number: 1077161
Company number: 3724349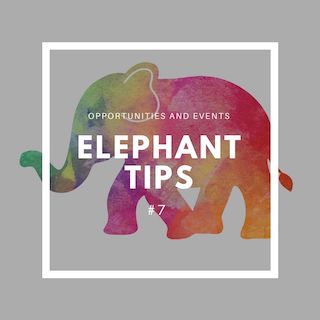 We have some fresh new Elephant Tips coming your way today including a few crafty ones to help with that Christmas shopping.
While things are still disrupted and opportunities for artists are limited, we wanted to spread the word about what is out there and available to you. Like most Blue Elephant seasons, there's a selection here and hopefully something for everyone, whether young or old, working in the arts or not...
Voila! Europe Festival
Voila! Europe is an annual theatre rendez-vous in London, bringing together British and European theatre makers each November. Our curated programme is a border-busting mix of multicultural, multilingual, and multidisciplinary performance.
A particular shout-out to our friends Julia Masli & Viggo Venn who are presenting We Missed You . During the pandemic Julia & Viggo went out to unexpected public spaces in Lambeth to do playful, magical and socially-distanced performances to lift the spirits of local people. These moments of connection were filmed and will be screened as part of the live performance. Check out the festival here.
Home Baked Bling
Alice Rose offers a range of handmade polymer clay jewellery in bright colours and bold patterns. The perfect stocking filler for the festive season and custom orders are available here.
Iain Gibbons Art
Iain is a cartoon and fine art artist. His Etsy shop comprises of bird images on canvas and hand-inked cartoons on paper and a range of work printed onto cards. Take a look around here.
Baby Bear @Home
Moon On A Stick presents their brand new show for babies. Baby Bear is being screened as part of Harrow Arts Centre's HAC From Home season. Cosy in her cave, baby bear doesn't want to leave but the creatures from the forest outside have other ideas. With beautiful puppetry, a mesmerising soundtrack and plenty of interaction, this is the perfect at-home theatre experience for babies 0-2 and their families here.
New Stories
Yellow Earth present their digital short play festival. They are thrilled to be showcasing 17 British East and South East Asian (BESEA) playwrights with 17 new short plays. Brought to life by over 60 BESEA freelance theatre-makers, these plays will be live-streamed throughout the day on Friday 30 October on our social channels.here.
Le Cat in (re)Boots
As part of the 23rd South Ken Kids Festival, Exchange Theatre is back on a stage with a new family show Le Cat in (re)Boots!, exploring themes of Kindness, Fraternity and Diversity.
Charles Perrault's Puss in Boots, or Le Chat Botté, is one of the most beloved heroes for the children as adults, a master trickster who breaks down all barriers of class and origins. He makes his master's fortune by playing tricks on everyone, even the King; but are they tricks or justice?
Wednesday 18th November at 4pm, suitable for ages 5 and up and performed in English. More information and to book tickets click here.
Weston Jerwood Creative Bursaries 2020-22
Over 2020-2022, the programme will support 50 salaried jobs in arts and cultural organisations across the UK, for individuals from low socio-economic backgrounds. The programme is dedicated to supporting outstanding early-career artists, curators, producers and creatives to thrive, and working in partnership with leading arts and cultural organisations to take an inclusive, intersectional approach to recruitment, artist development and organisational change.
You can find out about some of the bursaries on offer here. all over the country but check back for regular updates and don't forget to spread the word.