BET mailing list
Submit your email

BET on Twitter
Loading feed...
Charity number: 1077161
Company number: 3724349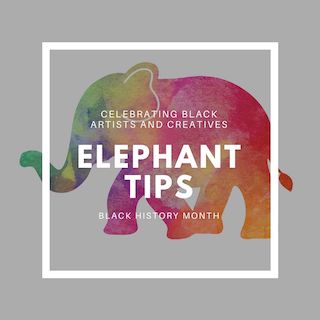 While things are still disrupted and opportunities for artists are limited, we wanted to spread the word about what is out there and available to you. Like most Blue Elephant seasons, there's a selection here and hopefully something for everyone, whether young or old, working in the arts or not...
Today's Elephant Tips mark Black History Month so we've got a selection of events and opportunities for, by and about Black artists and communities.
Young Gifted & Black
Theatre Peckham celebrates its reopening with Young Gifted & Black, a multi-artform programme of socially distanced, in-person and participatory digital events, taking place throughout October and into November. The line-up features theatre, new writing, spoken word, poetry, scratch nights, panel discussions, workshops, seminars and exhibitions. Curated by Associate Director malakaï sargeant alongside Artistic Director Suzann McLean, more than ten events spread across five weeks, shine a light on lived experiences of London's Black community. Find out more - here.
846 Re:Play
Slightly further afield but a free opportunity from Stratford East open to Black* young people aged 16-18 in East London and nearby boroughs. All you need is passion and commitment. Work with writer Natasha Brown and director Abigail Sewell to write and perform an audio play on Stratford East's main stage. To register click - here.
Digital Patchwork Quilt
Celebrate Black History Month and contribute by creating a digital square for the Southwark Stands Together Digital Quilt.
Our digital patchwork quilt project is inspired by Harriet Tubman, an abolitionist and freedom fighter; whose brave and noble work liberated many fellow slaves by means of an underground railroad – a network of secret routes and safe houses. A square at a time we will build a quilt that symbolises togetherness, peace, equality and justice. Families and friends can create a patch together, or you can send in your own. Your square can be created and then photographed, or produced digitally.
The finished digital quilt will be available to see online, at libraries and in chosen venues across Southwark. To take part click - here.
Windrush: Portrait of a generation
A photo essay by Jim Grover capturing the daily lives - church, home, social, funerals & more - of Lambeth families who came from the Caribbean 70 years ago will be on display in Brixton Library from the 1st of Oct. Find out more about this poignant exhibition here.
Free online dance classes
Upside Down Dance is inviting you to celebrate Black History Month with them and is offering free dance classes for children and adults. Get a free taste of Afrobeat, Dancehall, Soca & hip hop classes for a week on Zoom. You can book tickets to a class here.
And one for luck...
Tata Storytime
Tata Storytime is a new online kids' show where fantastic actors read beautiful picture books. With Authors from African, Caribbean & African American heritage these stories will engage your children pre-school to 8 years. You can find them all on youtube.