BET mailing list
Submit your email

BET on Twitter
Loading feed...
Charity number: 1077161
Company number: 3724349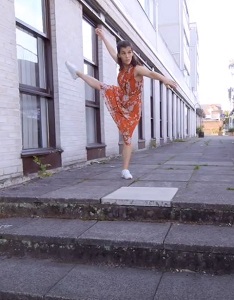 We caught up with Piedad Seiquer, whose dance film Acceptance is the latest showing in our Elefeet Dance Film Festival. Acceptance is an upbeat and hypnotic film from a longer series of work, and poignantly filmed at the time of the first lockdown, capturing the emotional response to the sudden change of life.
What have you missed about dance/dancing since the start of the pandemic?
I think the pandemic has showed us how resourceful we are, and the ability to adapt and change.
The thing I missed the most has been the face-to-face dancing, connecting with other artists in the room. Although we were able to engage in a different way through our screens, there is something powerful about sharing the space with others (artists, audiences, students...)
What inspired Acceptance?
Acceptance is the last short film of a collection of short films funded by Reactivos Culturales. The collection is called Grief for a time that once was and it's a video graphic journey through the seven stages of grief.
The inspiration of Acceptance and the rest comes from the situation we were in last March, the restrictions on our freedom and the need to move on. It's the last step to go on...
What's special for you about dance?
Dance for me is the vehicle of expression. Sometimes we are too busy in the head, overwhelmed with emotions and or unable to explain and communicate...
It's my way out or way in, moving and dancing allows to let go, to process and it brings me joy.