BET mailing list
Submit your email

BET on Twitter
Loading feed...
Charity number: 1077161
Company number: 3724349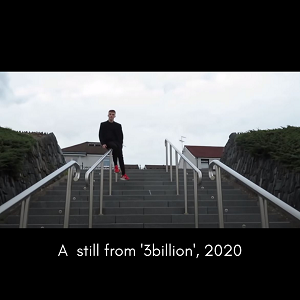 3billion by Overdrive Dance Company is the latest dance film in our festival, and we spoke to co-founder of Overdrive Dance Company, Lucy Wild, about their work and her experiences:
What have you missed about dance/dancing since the start of the pandemic?
Overdrive is a real family, we have missed being in the space physically together, being able to laugh, joke and have fun. Luckily we have managed to meet over zoom and recreate that as much as possible but it isn't quite the same! Our work is very physical, a lot of contact and lift work so we've really missed being able to do that. We also miss performing and sharing our work with others at venues and festivals (including with other young people).
We are a support network for each other so being together is always a chance to escape, play and explore creatively. We look forward to being able to do that in the physical space soon.
While we have missed being together in a space, the pandemic has opened up new opportunities to us - we have started to create digital/film work and are currently working on another film which will be screened later this year.
What inspired 3Billion?
3billion is an exploration of male identities questioning who we are, who we will become, and do we have to follow the path set for us? Performed and filmed by dancers of Overdrive Dance Company, the company came together over lockdown to reimagine a work that was due to perform on stage into film. 3billion was made possible by a microgrant from Youth Theatre Arts Scotland.
Tell us about Overdrive Dance Company
Overdrive Dance Company was co-founded by Lucy Wild and Hayley Earlam in 2015. Overdrive is a dance company which promotes dance for boys and young men aged 10-25 in Glasgow. Overdrive is an open and inclusive company that creates a safe, inspirational space for the boys to explore their creativity in an all-male community. The dancers are a diverse group, coming from a range of backgrounds, experiences and abilities. The dancers, in collaboration with Hayley and Lucy, create works which are highly physical, daring, tender and often humorous. By working in a collaborative way, the work created reflects the dancers themselves and ensures the young people's voices are heard.