BET mailing list
Submit your email

BET on Twitter
Loading feed...
Charity number: 1077161
Company number: 3724349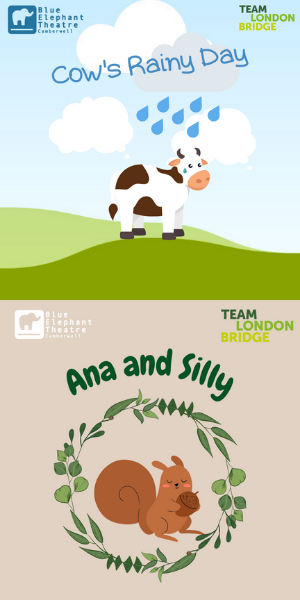 Your favourite cow and squirrels are back for FREE performances in libraries and community centres all around South London!
Suitable for ages 2+
Running Time: 30 minutes approx.
Tickets are FREE but should be booked in advance to avoid disappointment.
_______________________________
COW'S RAINY DAY
Cow is very excited about celebrating his best friend Amy's birthday. He's planning to make her the most amazing card she's ever seen.
But things don't go quite to plan and Cow feels down.
Luckily Amy is there to help Cow feel better - but she needs some helpers. Can you join her and cheer Cow up?
Cow's Rainy Day is a short play for children, about learning new things, accepting mistakes, trying hard and being friends.
Dates:
• 20 May, 11am and 12pm at Mercato Metropolitano, 42 Newington Causeway, London SE1 6DR
• 26 May, 4pm at John Harvard Library, 211 Borough High St, London SE1 1JA
• 22 June, 2pm & 4pm at Peckham Library, 122 Peckham Hill St, London SE15 5JR
_______________________________
ANA & SILLY
Ana the Squirrel enjoys a simple life collecting and counting acorns. Ana's not prepared for the arrival of cousin Silly who announces that soon all will change and they will both go to school!
A short children's show about transitions and making friends.
Dates:
• 30 May, 11am at Walworth Library, 147 Walworth Rd, London SE17 1RW
• 30 May, 2pm at Camberwell Library, 48 Camberwell Green, London SE5 7AL
• 5 June, 1pm, 2pm & 3pm, Elephant Park, Elephant Rd, London SE17 1UB
• 21 June, 2pm & 4pm at Dulwich Library, 368 Lordship Ln, London SE22 8NB