BET mailing list
Submit your email

BET on Twitter
Loading feed...
Charity number: 1077161
Company number: 3724349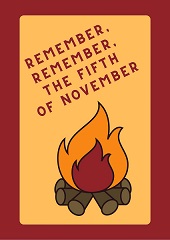 Remember, Remember..... goes the old rhyme but how well do you know the story of Guy Fawkes?
Join Further Theatre's Ollie Yellop for a fun interactive storytelling workshop on The Gunpowder Treason and Plot. Learn the gruesome details of Guy's fate and then use your imagination to tell the story in your own words.
Ollie Yellop regularly works with the Blue Elephant on workshops and shows, most prolifically as the character Cow. These one-hour online workshops jump into the history behind Bonfire Night and are aimed at children aged 7 - 11. Children taking part should have a pen/pencil and paper with them.
The workshops are free and will take place via Zoom.