BET mailing list
Submit your email

BET on Twitter
Loading feed...
Charity number: 1077161
Company number: 3724349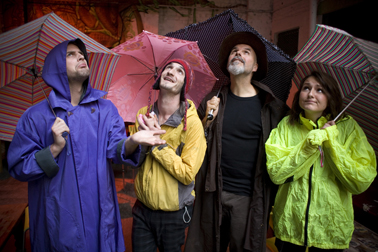 I'm at Comber Grove Primary School in Camberwell watching a class of lively but impeccably behaved Year 5 children enjoying a drama lesson with a difference. I'm intrigued to be in this Southwark school, actually, because in education circles it is legendary - although I doubt these Year 5 pupils are aware of that.
Comber Grove's Head teacher, Mike Kent, has been a regular contributor to the TES, the paper which does for teachers what The Stage does for actors, for decades and is the author of several books. He is famous for inclusive, rigorous, creative education especially in the arts and you can sense that ethos as soon as you walk through the door.
The lesson I'm sitting in on is no 'ordinary' drama lesson though - if indeed there is any such thing? This is a 45 minute workshop set up by Blue Elephant Theatre which is just round the corner. Stuart Cox, BET's full-time Education and Development Director, works in the school regularly and is clearly well known to the children.
BET's new production for Christmas is Noah's Ark by Mervyn Peake. It opens later this week and I shall be reviewing it for The Stage. Today's workshop is led by three of the Noah's Ark cast, Gareth Murphy, Lawrence O'Connor and Claire Sharpe, who have just come from rehearsals.
First Murphy warms the group up with games involving animals in the jungle and movements standing in a circle. Then O'Connor, a charismatic storyteller, tells them the Peake version of the Noah's Ark story. Small group freeze-frame activities follow, along with songs taught by Sharpe, who is a skilled actor musician. Some more games round the workshop off. By the end of the session, as O'Connor points out to the class with gentle strength, the children have acted out the entire Noah's Ark story.
Some of the children have seen shows at BET which is in the heart of Camberwell's almost iconic, tower block, social housing estate. Most have not and Cox gives every child a flyer in the hope that some might persuade their parents to take them to Noah's Ark.
At the end, one positive but not in the least pushy little girl comes straight up to Sharpe and hugs her spontaneously as a way of saying thank you and goodbye. Then she solemnly hugs Murphy and O'Connor. What a joy to see such natural good manners and evident pleasure in the work and those who have provided it.
Meanwhile, another workshop led by three more actors from Noah's Ark's cast of nine is taking place in another nearby school because this is a densely populated area and BET takes its community and education work very seriously indeed. It has Arts Council Funding for it and is able to offer workshops like the one I saw free to the school through partnership with Children in Need.
In fact BET has so much excellent work going on that I hope to write a more in-depth piece about its youth theatre, community plays, projects in schools and so on in the new year probably for the Training pages of The Stage. Meanwhile I'm looking forward to Noah's Ark on Friday, having also sat in on part of a rehearsal last week. And feel quite privileged to have seen those children getting such a lot out of their workshop.