BET mailing list
Submit your email

BET on Twitter
Loading feed...
Charity number: 1077161
Company number: 3724349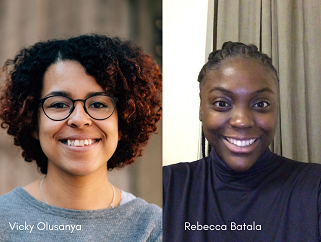 On its 22nd birthday, Blue Elephant Theatre is delighted to be looking to the future with the winning playwrights of its lockdown playwriting competition.
Writers Vicky Olusanya and Rebecca Batala each submitted a short opening scene to a play.Vicky's play, The Apple of his Eye, is about a teenage girl growing up in South East London who navigates her way through school and A-Levels while being a carer for her father. Rebecca's play, Roughly 150 Years, looks at how young people acting as parents to their own parents affects their experience of childhood.
Both writers were motivated to start their plays by entering the competition which looked for submissions of up to six pages. They are now working to develop their scripts and have accepted an offer of mentorship from Blue Elephant Theatre.
Rebecca and Vicky are both early career artists, based in London, working across disciplines.
Rebecca Batala is an emerging playwright, writer and actor who is currently on the Soho Writers' Lab developing her first full length play entitled Band 2.
Vicky Olusanya completed the Collaborative Theatre Making MA at Rose Bruford College and over the last four years, her directing has largely had a focus on community engagement and celebrating LGBTQ+ voices. She is a StoneCrabs Young Director for 2020-21 and Facilitator for Inky Cloak's LGBTQ+ community engagement.