BET mailing list
Submit your email

BET on Twitter
Loading feed...
Charity number: 1077161
Company number: 3724349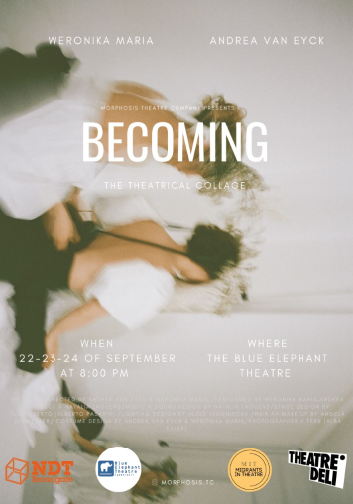 Two women, two different countries, different backgrounds, heritage, but one city - London.
Becoming explores cultural, political and religious differences and their impact on daily life. The need of finding one's identity in today's world.
The Untamed Hunger inspired both artists to ask some questions to which old answers cannot be applied anymore. These conversations planted a seed for their first theatrical proposal presented at Theatre Deli in London in 2021.
Morphosis Theatre Company are delighted to share Part One of Becoming at Blue Elephant Theatre.
___________
About Morphosis Theatre Company
Morphosis Theatre Company was founded in 2022 by Weronika Maria and Andrea Van Eyck. Both have strong backgrounds in acting and performing arts. Weronika graduated from BA Acting CDT at Royal Central School of Speech and Drama in London and Andrea from BA Acting and Performing Arts at the TAI – Rey Juan Carlos University in Madrid.
The project began in 2020 as an experiment by sharing a one minute video each day for a month. As a result the concept evolved from a video poetry expression into theatrical essay.
Throughout their journey, Morphosis were supported by Migrants in Theatre and NDT Broadgate/ New Diorama Theatre.
In May 2021 "Becoming" was part of Shift+Space program at Theatre Deli in London.
In Spring 2023 Morphosis are going to share Part Two of "Becoming" as part of the second edition of Shift+Space at Theatre Deli in London.
Follow us on Instagram: @morphosis.tc