BET mailing list
Submit your email

BET on Twitter
Loading feed...
Charity number: 1077161
Company number: 3724349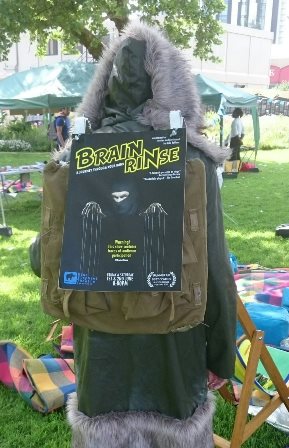 Brain Rinse is a madcap, bizarre comedy sketch show that tackles all the big themes in life. But what makes this show really different is that local comedy actor Mike Raffone doesn't perform to the audience; he performs with the audience in the ultimate immersive show with a cast of thousands. There's war, mountaineering, a sex cult where the members are not allowed to touch each other, and a spiritual journey to discover one's 'inner ninja'. It's all in there in this one-man show, which makes its London début at Blue Elephant Theatre in June.
You may know Walworth based Mike as the compère and brains behind the area's monthly Cabaret Night Cabaret Rinse, but Mike has spent the last few years developing work for theatre audiences and Brain Rinse is the result. As an artist, he relishes facing new challenges and has always wanted to move his work into different areas. This cabaret promoter and ex-street entertainer has, however, not forgotten his roots. The show retains all of the energy, edginess and unpredictability of his former work and this is what makes it unique. Many comedy shows have interactive elements but this experienced and accomplished performer has decided to go the whole hog and do the whole thing not to, but with the audience.
Sure, the idea of joining in may fill you with more dread than the thought of two hours in the dentist's chair with Dr Josef Mengele, but you are in safe hands with Mike. He has over three decades experience, entertaining audiences all over the world with his interactive street comedy and cabaret."Now I know", says Mike, "that asking the audience to do the entire show is a big ask, but I've learned that if the audience are treated with respect they will almost always give more than they imagine they ever could."
And as for performing his show at Blue Elephant Theatre, Mike says he's really excited at the prospect. "It's amazing to have such a vibrant, energetic and interesting theatre just down the road from where I live. Not only that, it's a theatre that's committed to putting on new and fresh work. Not many places outside of Central London can boast that, so it was the obvious choice when I was thinking about theatre venues for my latest show. It's a chance to reach out to local audiences who would like this unique and fun comedy theatre show."
You can catch Brain Rinse at Blue Elephant Theatre, 59a Bethwin Road, SE5 0XT on Friday 1st and Saturday 2nd June at 8pm. Tickets are £10 (£8.50 concessions), £7.50 for Southwark residents and there is an earl bird offer of £6.25 if you book before 28th May. The show lasts about in hour with no interval.
'I guarantee you will be in safe hands if you turn up to the hilarious Brain Rinse. He (Mike Raffone) had a fantastic presence on stage and supreme ability to get the best out of us all.' Stephanie Billen, Buxton Festival Review
'Top notch audience psychology, all hail!' John Fleming