BET mailing list
Submit your email

BET on Twitter
Loading feed...
Charity number: 1077161
Company number: 3724349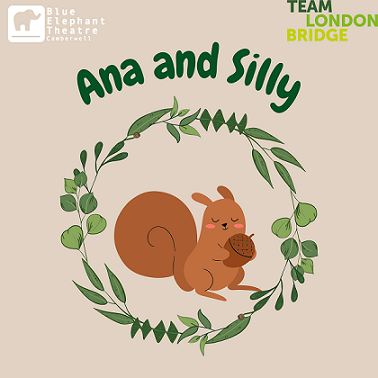 Ana the Squirrel enjoys a simple life collecting and counting acorns. Ana's not prepared for the arrival of cousin Silly who announces that soon all will change and they will both go to school.
A short children's show about transitions and making friends, Ana and Silly was first shown as 'The Next Step' at Elephant Park in summer 2021.
Performed by Amanda Vilanova and Mariana Aristizabal Pardo.
Thursday 17th February:
11am
12.30pm
2.30pm (in Spanish as Ana y Silly)
Friday 18th February:
10.30am
11.45am
Additional Information
Tickets are free but need to be booked
Best suited to ages 2 - 5
Running time: Approx 25 minutes
Additional Information:
If you have any access requirements, please contact us on 020 7701 0100 or info@blueelephanttheatre.co.uk. Our theatre space is on the ground floor and is wheelchair accessible but our bar is upstairs and unfortunately is not. Our bar and our box office open 45 minutes before each show starts.
Covid-safety: We are operating at reduced capacity so there can be more space between audience members and we have recently installed a new ventilation system. We encourage adults to wear a mask in the theatre, unless you are exempt. We clean down and disinfect high touch points regularly and hand sanitiser/hand washing facilities are available as soon as you arrive at the theatre.