BET mailing list
Submit your email

BET on Twitter
Loading feed...
Charity number: 1077161
Company number: 3724349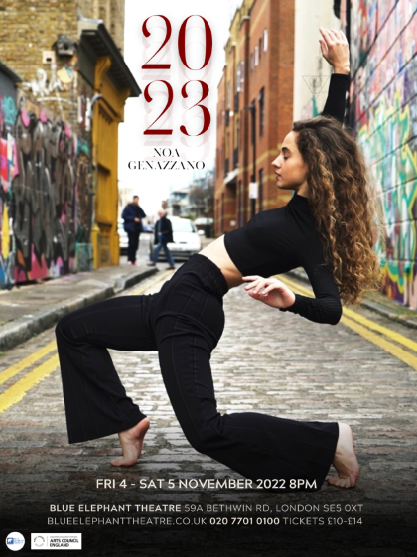 2023 is a response to the growing need for change in the world we're living in.
A change of awareness in how we relate to our earth is needed urgently. We are facing unprecedented challenges as a collective with our planet reaching saturating levels of pollution, overwhelmingly extreme temperatures, soil degradation and increasingly frequent natural disasters, but there is still time to shift the direction.
2023 invites the audience to reflect on their own relationship to the earth and takes us on a journey to glimpse a possibility of the world we are capable of creating when we reconnect with our planet.
________
About Noa Genazzano / Universe In Motion
Born in Barcelona, Noa Genazzano was raised in NYC. She graduated from The Ailey School where she performed alongside Alvin Ailey American Dance Theatre. After relocating to London she worked with esteemed choreographers Maxine Doyle, Vinicius Salles, and Humanhood, among others.
In 2018 she founded Universe in Motion to inspire personal and global shifts in awareness through movement, meditation, and performance art. Her work, U Are The Universe, premiered at Triskelion Arts in NYC.
Follow Noa on Instagram: @universeinmotion
Check out Noa's website: www.noagenazzano.com
Reviews
"Noa Genazzano's performance and choreography is undeniably exciting. She, and the dancers, impressed us all with interesting, engaging, at times playful, and always mature, dance... She is a fresh, young talent and her art ought to be fostered"
Britton Fisher, Board Member The Joyce Theatre, New York City
"Noa's artistic voice and vision is something special because of her fearless yet gentle movement to describe the most intimate and overwhelming story: Self-Realization. Her motivation to be a way-shower of her generation is outstanding. From the mundane illusion of what life appears to be, Noa takes you on a ride of self discovery to the beautiful moment where you realize you are a part of everything."
Danica Paulos, Company Member Alvin Ailey American Dance Theater