BET mailing list
Submit your email

BET on Twitter
Loading feed...
Charity number: 1077161
Company number: 3724349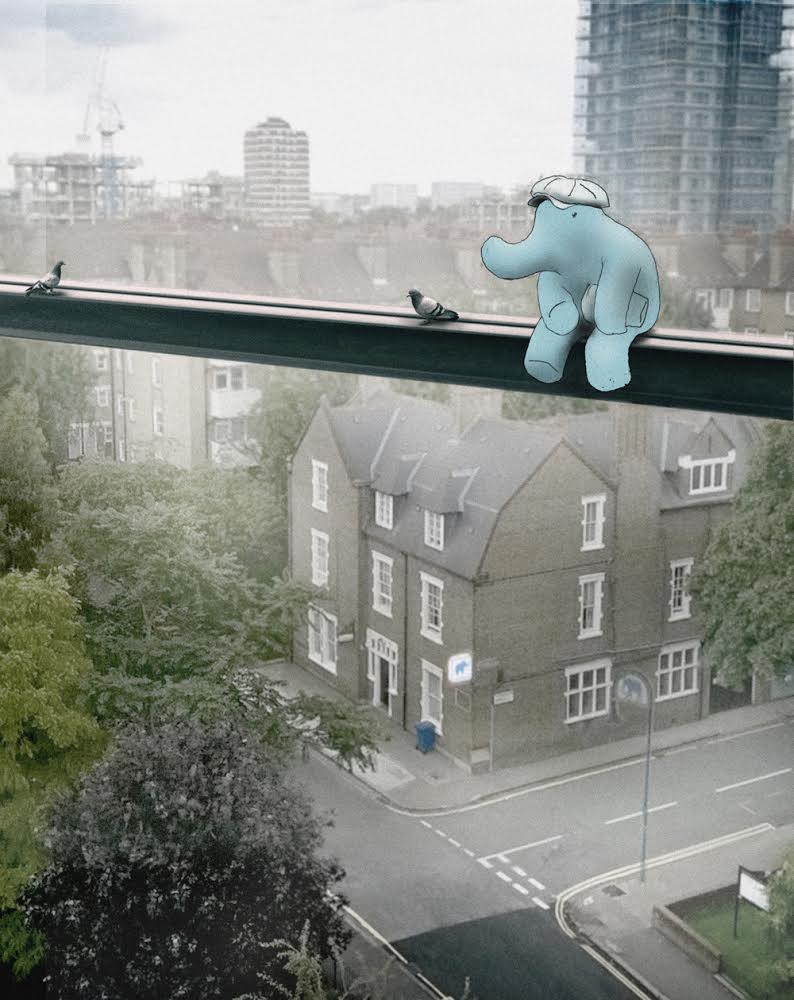 "The wonderful Blue Elephant Theatre"
"Thinking big for a little venue"
"This quirky oasis of a theatre is a charming hidden gem in South London."
"Camberwell's coolest venue"
"Fringe theatre at its finest"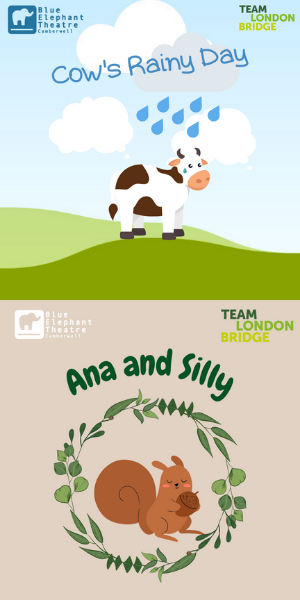 Your favourite cow and squirrels are back for FREE performances in libraries and community centres all around South London!
Suitable for ages 2+
Running Time: 30 minutes approx.
Tickets are FREE but should be booked in advance to avoid disappointment.
_______________________________
COW'S RAINY DAY
Cow is very excited about celebrating his best friend Amy's birthday. He's planning to make her the most amazing card she's ever seen.
But things don't go quite to plan and Cow feels down.
Luckily Amy is there to help Cow feel better - but she needs some helpers. Can you join her and cheer Cow up?
Cow's Rainy Day is a short play for children, about learning new things, accepting mistakes, trying hard and being friends.
Dates:
• 20 May, 11am and 12pm at Mercato Metropolitano, 42 Newington Causeway, London SE1 6DR
• 26 May, 4pm at John Harvard Library, 211 Borough High St, London SE1 1JA
• 22 June, 2pm & 4pm at Peckham Library, 122 Peckham Hill St, London SE15 5JR
_______________________________
ANA & SILLY
Ana the Squirrel enjoys a simple life collecting and counting acorns. Ana's not prepared for the arrival of cousin Silly who announces that soon all will change and they will both go to school!
A short children's show about transitions and making friends.
Dates:
• 30 May, 11am at Walworth Library, 147 Walworth Rd, London SE17 1RW
• 30 May, 2pm at Camberwell Library, 48 Camberwell Green, London SE5 7AL
• 5 June, 1pm, 2pm & 3pm, Elephant Park, Elephant Rd, London SE17 1UB
• 21 June, 2pm & 4pm at Dulwich Library, 368 Lordship Ln, London SE22 8NB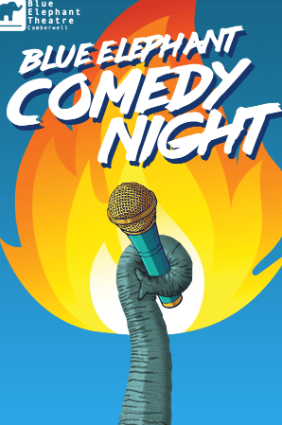 THE BIG RETURN OF COMEDY AT BLUE ELEPHANT!
A terrific line-up of up-and-coming comedians is taking over our theatre space for one night - grab a drink and witness some of the most exciting acts the UK comedy circuit has to offer!
Including:
MICAH HALL
CHIN WANG
BRONWYN SWEENEY
BRANDON PALMER
DAVINA BENTLEY
KATE LOVERLOCK
Compered by FITZGERALD HONGER
Micah Hall - Micah has recently been a finalist for the Southend On Sea Best New Comer award, runner-up for the Brighton Grin New Comedian competition, and Comedy Store's King Gong Winner (August 2021)
"Definitely one to watch!" – Russell Kane
Chin Wang - Grew up in China, and lives in the UK, Chin Wang is an up-coming stand-up comedian in the UK comedy scene. Chin's infinitely likable stage persona and belting gags have seen her ripping up live gigs from London to Glasgow as well as radio shows in Scotland and virtual shows streamed to Shanghai. Funny, charming, and hilariously honest, Chin is fast becoming one of the most exciting new acts to see.
Brandon Palmer - Born in Baltimore, Maryland. Brandon started comedy in London and has a very diverse comedy background. Performing in Birmingham, Milton Keynes, Brighton and numerous venues in London such as Dulwich Hamlet, Caverndish Arms, and Comedy Cafe Theatre. Outside of London Brandon has performed in Scotland and Norway. Also survived King Gong twice at the Comedy Store.
Bronwyn Sweeney - Bronwyn is an advertising creative by day and draws on her experiences of making ads that no one wants to watch to inspire her comedy. She was the runner-up in the Funny Women Awards show in 2021 and hopes that one day, her side hustle may become her full-time hustle.