BET mailing list
Submit your email

BET on Twitter
Loading feed...
Charity number: 1077161
Company number: 3724349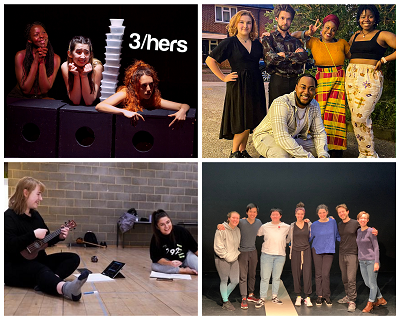 Blue Elephant Theatre is delighted to announce that 3hers Collective, Halfpace Theatre, Seeds Productions and NO TABLE will be our new resident companies as part of our Elephantology 2021 festival.
They are all early career companies that we are excited to welcome to the Blue Elephant Family; they will receive support from us and will each present a showcase of their work - so watch this space.
Find out a little bit more about our companies below:
3/hers is a female led performance collective focused on the stories and experiences of those who identify with womanhood and the feminine. The founders, Princess (she/they), India (she/her) and Ruby (she/her), formed the collective during their European Theatre Arts training at Rose Bruford College, where they discovered their shared passions for devised performance. The collective draws creative inspiration from intermingling lived-experience with classical texts and socio-political events. These elements work in tandem to transform personal experiences into a combined and universal theatrical expression, keeping the values of respect, diversity and lightheartedness at the core of their practice.
3/hers plan to develop their show The Pursuit of Happiness to explore the themes of the feminine pursuit of happiness, and what this means for women from different socio-economic, cultural and religious backgrounds.
Seeds Productions is made up of two friends Lillie Seeds and Angharad Griffiths sharing their love of music and songwriting through the expression of comedy in order to create relatable content. They are looking forward to being able to share their show with people after a long year without audiences! They also hope to create new and exciting connections within the industry.
Halfpace Theatre is a theatre company dedicated to devised theatre and new work by underrepresented artists. Halfpace debuted in 2021 with the devised piece fester at The Cockpit Theatre as part of Camden Fringe Festival. They are planning on using the residency to research and develop a new piece of devised theatre using the fairytale Bluebeard as a jumping-off point to explore violence (particularly gendered violence) in contemporary society.
NO TABLE was assembled at Theatre Peckham this year as part of the government's Kickstart Scheme. Made up of five young theatre-makers from a variety of backgrounds, it aims to create risk-taking work that uplifts eclectic voices through a playful approach to theatre-making and to embolden young creatives in Southwark with artistic opportunities, events and workshops.
They are developing their first original creation, Eating Jeff, a dark and absurdist dive into modern activism and the current discourse around political engagement and identity. Through the residency, they hope to heighten the relevance of the piece by fleshing out the characters, playing with genre, structure, and audience expectations – involving external creatives to refine the dialogue, movement and style.
The residency programme is supported by The Idlewild Trust